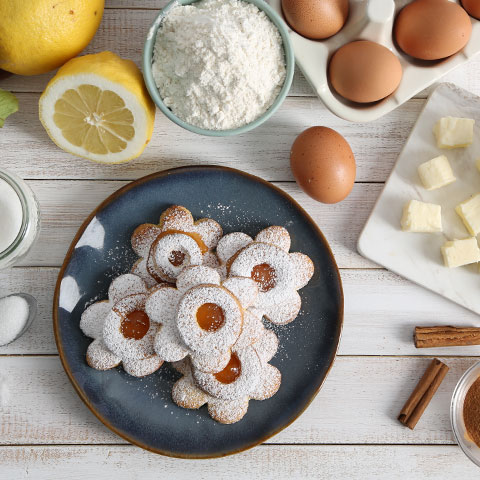 Sardinian culinary tradition offers a wide variety of recipes also in the desserts field. Sardinian confectionery art, even if not as well known as the other courses, is based on rural and pastoral tradition. For this reason the ingredients used to prepare Sardinian cakes are simple but aromatic and intense, like dried fruit, cheese, honey, citrus fruit, candied fruit and icing.
This section is entirely dedicated to desserts, and you will find many recipes varying according to geographical area, exactly like all the other Sardinian courses.
Among typical cakes we find nougat and Pistoccus, biscuits similar to savoiardi. One of the most used ingredients are almonds. Various desserts are made with almonds, like Aranzada – made with orange peel candied in honey and toasted almonds – and Gatò de mendula – a crunchy cake with toasted almonds and orange.
Then there are Papassini – prepared with durum wheat, nuts, raisin, almonds; and Guefus, cakes shaped as small balls made of grinded almonds, sugar and lemon.
Also made by almonds are Amaretos, sweet biscuits with sweet and bitter almonds, sugar, egg white and lemon peel. Lastly, there are Candelaus, almond paste with a filling made of almonds, orange blossom and icing.
Another typical Sardinian dessert are Pardulas. They are soft cakes shaped as a dome with a ricotta stuffing. Similar to Pardulas are Casadinas, pastry pies filled with fresh cheese flavoured with lemon.
In conclusion, whichever recipe you will choose, it will be a triumph of flavour and sweetness!