PRESENTATION
Papassini are diamond-shaped sweets covered with a delicious white frosting and coloured sugar sprinkles.
Also known as pabassinas or papassini di Ittiri, these small shortcrust pastries are enriched with almonds and golden raisins and usually cooked for All Saints' Day, though in Sardinia they can be found all year round, and in several varieties.
Their strange name comes from the golden raisins in the dough.
To bake irresistible papassini, just follow the steps in our recipe.

STEP 1
First things first, when preparing papassini you should soak the golden raisins in lukewarm water for at least 30 minutes and grind the almonds and walnuts.
STEP 2
Prepare the papassini dough by putting flour, baking soda melted in lukewarm milk, 200g sugar and diced softened butter in a bowl. Work the ingredients until they start to crumble, then add the eggs, cinnamon and the lemon zest and keep mixing until the dough is compact.
STEP 3
At this point roll out the dough and add the well-wrung golden raisins and the ground almonds and walnuts and mix again to ensure that the ingredients are evenly distributed. Create a ball, wrap it in film and place in the fridge for 30 minutes.
STEP 4
When this time has passed, roll out the dough on a work surface until it reaches a 5mm thickness. Then, with a cutter or a diamond-shaped mould, create your papassini and lay them down on a tray lined with baking paper, keeping them well apart. Cook in the pre-heated oven at 180° for 15 minutes. When ready, take them out and leave them to cool.
STEP 5
While they cool, prepare the frosting. Whip the egg white, then heat one glass of water with 250g of granulated sugar in a high-sided saucepan and bring it to a 121° temperature (or until you see that the sugar starts to resemble candy floss – you can check with your fingers). Add the sugar syrup to the egg white, pouring it slowly and whipping constantly to obtain a polished white icing.
STEP 6
When the papassini have cooled, add the icing with a knife, decorate them with powdered sugar and let the frosting harden before eating them.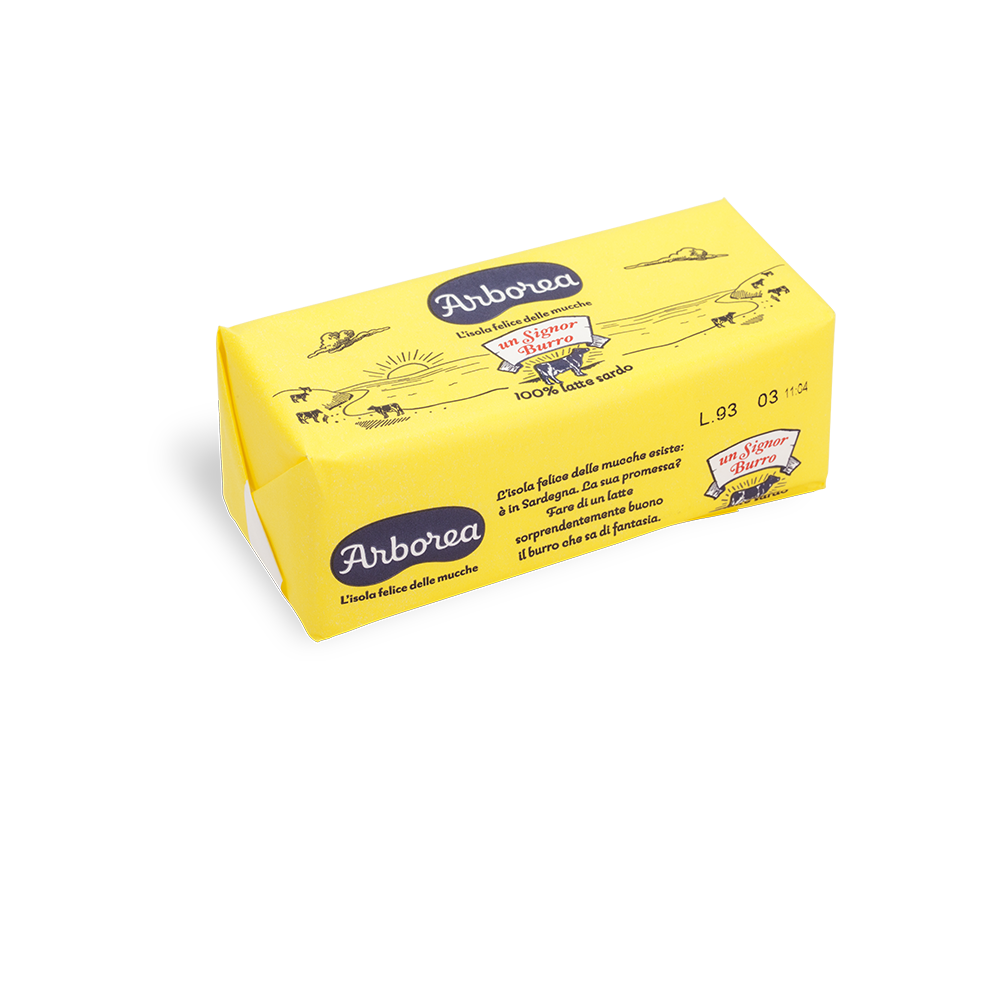 Butter
ingredientS
For the dough
00 Flour 

500 g

Granulated sugar 

200 g

Baking ammonia 

1 tsp

Arborea whole milk

80 ml

Eggs

2

Arborea butter

200 g

Cinnamon

1 tsp

Zest of 1 lemon

Zest of 1 orange
Shelled and toasted almonds 

200 g

Walnuts 

100 g

Golden raisins

 200 g
Egg white 

1

Granulated sugar 

250 g

Water 

1 glass
Sugar sprinkles

as required
OTHER PRODUCTS YOU MIGHT LIKE