presentaTION
Pardulas are typical Sardinian cakes that are usually baked at Easter.
They are small cakes made with a semolina and lard outer layer, stuffed with a ricotta and saffron cream; the saffron gives the cream its classic yellow colour, which makes pardulas look like small suns.
If, during the Easter period, you like to bring typical desserts to your table to impress your guests, try making pardulas by following this recipe: your guests will thank you immediately!

STEP 1
The first step in making pardulas is to let the ricotta drain so that it doesn't release its whey during cooking. Place it in a strainer so as to extract the whey. If you have time, you can do this the evening before baking.
STEP 2
Now it's time to prepare the dough that will form the base of your pardulas. Place the semolina on a pastry board, add the lard and mix the two ingredients until they start to crumble; at this point, add two egg whites. Keep mixing until you obtain a smooth and compact dough that you will put in a bowl covered with film and leave to rest for at least 30 minutes.
STEP 3
Now prepare the ricotta cream for the filling: take the ricotta you left to drain and place it in a bowl with the sugar, then use a whisk to combine the ingredients. Add the two egg yolks, flour, saffron and the lemon and orange zest. Stir and put the cream in the fridge.
STEP 4
Take your dough and roll it out with a rolling pin until you obtain a 2mm thickness. With a pasta cutter make some discs 8-10cm in diameter. Place a generous spoonful of ricotta cream in the middle of every disc. Then, with your left hand hold the cake and with your right hand pinch the sides at evenly spaced intervals to form a sort of basket in which the pastry shell adheres to the filling.
STEP 5
Place your pardulas on a tray lined with baking paper, keeping a fair distance between each one. Mix one yolk and two spoonfuls of milk in a bowl and brush the surface of the cakes with the resulting mixture.
STEP 6
Cook the pardulas in the pre-heated oven at 150° for around 40 minutes. When ready, let them cool and dust them liberally with icing sugar.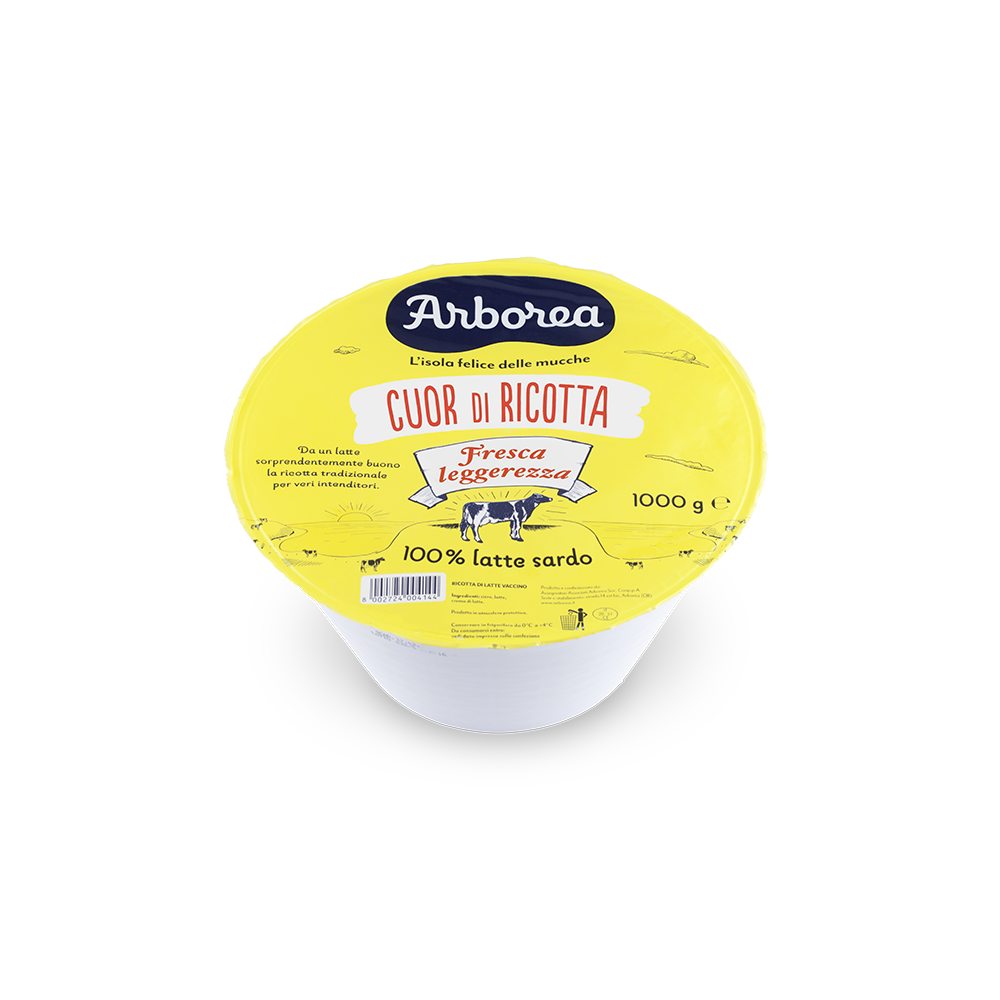 Cuor di ricotta
ingredientS
For the dough
Semolina 

260 g

Lard

30 g

Egg whites

2
Cuor di ricotta Arborea 

500 g

Egg yolks 

2

Zest of 1 lemon

Zest of 1 orange

Saffron 

1 bag

Sugar 

100 g
Egg yolk 

1

UHT whole milk

as required

Sugar

as required
OTHER PRODUCTS YOU MIGHT LIKE