INTRODUCTION
The Sardinian pastry tradition gives us cakes that are beautiful to look at and delicious to eat. Pastissus are just one example
They're a delicious almond-based mixture hidden inside a puff pastry shell. The final touch is the icing, which can be decorated according to your imagination.
Perfect for breakfast or at tea time, pastissus can also be prepared for special occasions like the Christmas or Easter holidays.

STEP 1
To prepare pastissus, start with the dough: in a bowl, mix the flour with the goat's milk butter and sugar, finally adding water. Using a rolling pin, roll out a very thin pastry and use it to line some metallic moulds greased with butter.
STEP 2
Leave the dough and focus on the filling: beat the yolks with 200g of sugar and lemon zest in a baking dish until you get a fluffy compound. Add the almond flour and sifted flour while gently stirring. In another bowl, whip the egg whites with the remaining sugar and, when the mixture is firm, carefully add it to the rest of the filling, stirring from below, being careful not to deflate the mixture. Finally, add the liqueur.
STEP 3
Using a spoon, fill every mould with almond filling and bake in the pre-heated oven at 180° for 15 minutes.
STEP 4
While you wait, prepare the icing: whip the egg whites, mixing them with orange blossom essence and gradually adding sugar, until you get a homogeneous pearly white frosting.
STEP 5
Remove the biscuits from the oven and let them cool, then remove them from the moulds and decorate them with an even layer of icing.
STEP 6
If you like, you can put the remaining icing in a piping bag and use it to decorate the surface of your pastissus, or you can embellish them with silver or coloured sugar sprinkles.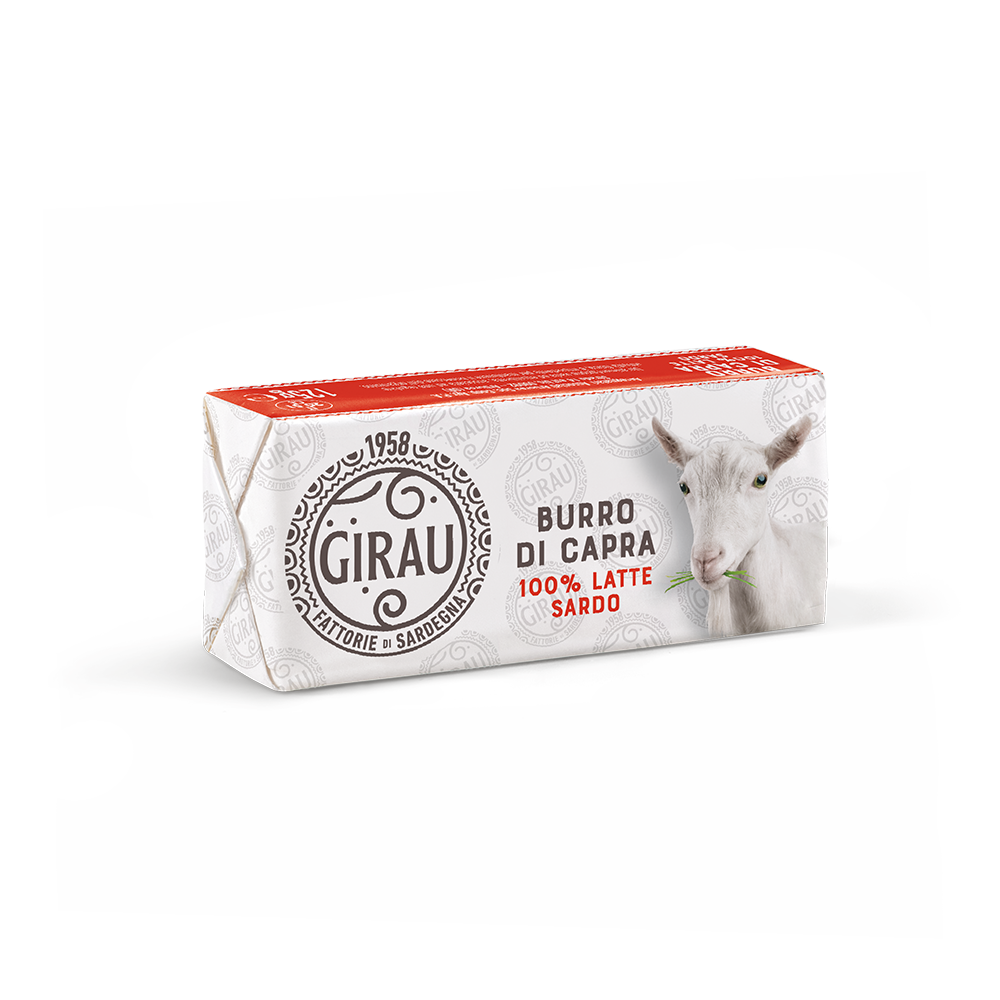 Goat butter
ingredientS
For the pastry
Flour 

500 g

Fattorie Girau goat butter 

100 g

Sugar 

50 g

Water 

50 ml
Almond flour 

250 g

Sugar 

250 g

Egg yolks

8

Egg whites

8

Zest of 2 lemons

Flour

2 tbsp

Citrus fruit liqueur

2 tbsp
Sugar 

150 g

Egg whites 

50 g

Orange blossom essence 

15 ml
OTHER PRODUCTS YOU MIGHT LIKE