SARDINIAN STYLE AUBERGINES
INTRODUCTION
Aubergines, or perdingianu, as they are called in Sardinian, are widely used in Sardinian cuisine, and in fact they are the main ingredient of several recipes. One of these is Sardinian style aubergines.
Sardinian style aubergines is a delicious side dish with a typical Mediterranean flavour. It's particularly famous in Cagliari and can be prepared with just a few simple ingredients: aubergines, garlic, cherry tomatoes and a bit of parsley are enough to prepare this irresistible side dish.
To make it even tastier, we added ricotta and goat cheese. Find out how to prepare it.

STEP 1
Cooking Sardinian style aubergines is very easy. First things first, clean the aubergines and cut them into slices around 1cm thick. Make some superficial cuts horizontally and vertically on the surface of every slice to help them cook. Put the aubergines slices in a strainer, add a little salt, place a weight on top of them and let them rest for around 15 minutes to remove some of the moisture and bitterness.
STEP 2
In the meantime, prepare the cherry tomatoes. Clean them, cut them in half and put them in a bowl. Finely chop the garlic and parsley, mix with the oregano and use to season the cherry tomatoes.
STEP 3
Line a high-edged baking tray with baking paper, make a first layer of aubergines, then cover this with some cherry tomatoes, a couple of spoonfuls of ricotta and a light sprinkle of grated goat cheese. Repeat this process until you have used all the ingredients. The last layer should be cherry tomatoes, ricotta and goat cheese.
STEP 4
Bake the Sardinian style aubergines in the oven at 200° for 35 minutes. Serve hot.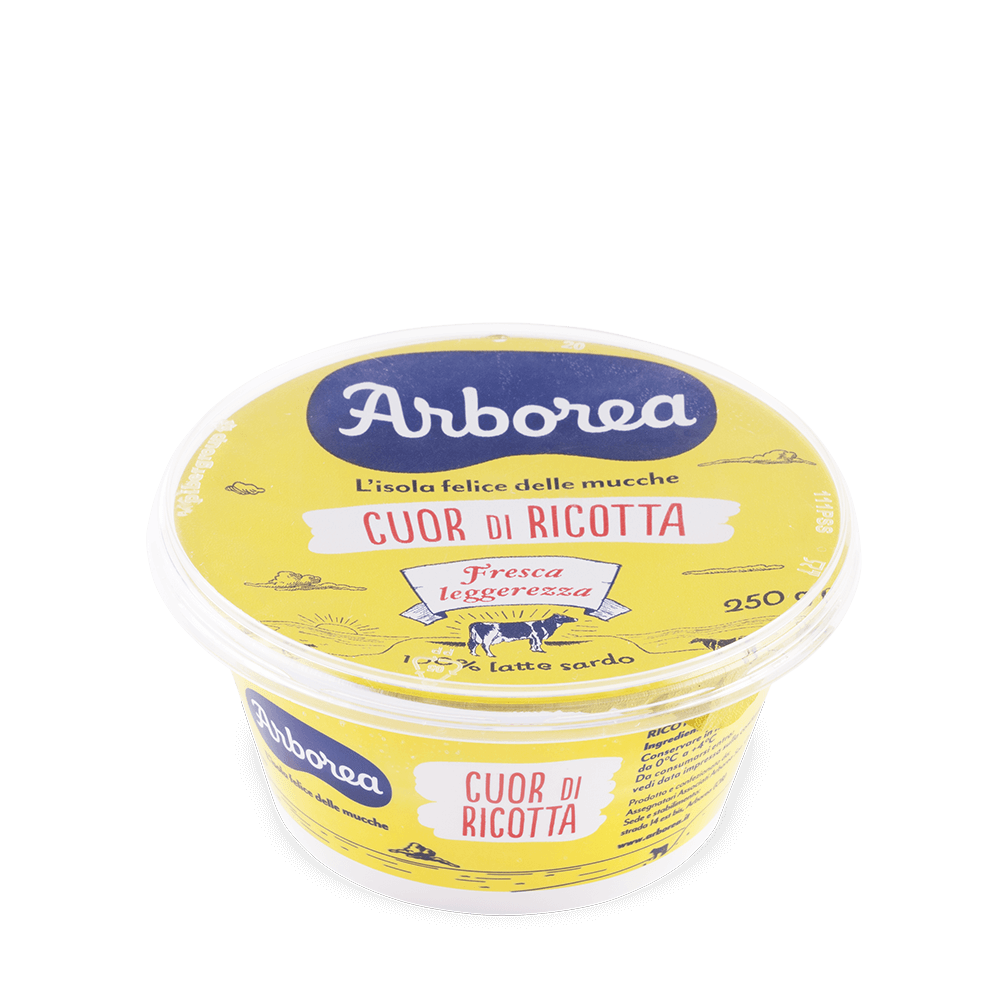 Cuor di ricotta
Aubergines 

2 large

Fattorie Girau grated goat cheese 

100 g

Arborea Cuor di Ricotta 

250 g

Cherry tomatoes 

300 g

Parsley 

1 sprig

Garlic 

2 cloves

Oregano 

as required

Salt

as required
OTHER PRODUCTS YOU MIGHT LIKE