INTRODUCTION
Lamb meatloaf is a typical Sardinian second course with a strong flavour. It's usually made during the Easter period, when the whole family meets to celebrate and spend quality time together.
The distinctiveness of this recipe with lamb, used instead of the more traditional veal and chicken, is its soft filling of hard-boiled eggs.
Lamb meatloaf is very easy to prepare, and is even tastier when accompanied with vegetable sides like baked potatoes or sautéed artichokes, or with some aromatic gravy.
If you want to bring a meatloaf with a difference to your table, try making this one by following our recipe.

STEP 1
The first step in preparing lamb meatloaf is to hard boil the eggs which will form the filling. Take 5 eggs, place them in a saucepan and cover them with water. Next, turn on the heat; they should cook for 8 minutes from the moment the water starts to boil. When they are ready, cool them under cold water and remove the shells.
STEP 2
In the meantime, prepare the ingredients that will give flavour to your meatloaf filling: remove the crust of the stale bread, dice it and soak it in milk, then finely chop the nuts and olives. Also chop the thyme, rosemary, parsley, and ham into small cubes; finally, grate the Sardinian pecorino.
STEP 3
Once all the ingredients are ready, put the minced lamb meat in a bowl and add all the other ingredients, including the grated pecorino. Squeeze the moisture from the bread, then add this and 2 eggs. Season with salt, pepper, thyme, rosemary and parsley, and knead the dough with your hands to mix all the ingredients.
STEP 4
When all ingredients are well mixed, create the base of your meatloaf by placing the meat on a sheet of baking paper and press it into a rectangular shape. Place a strip of hard-boiled eggs in the middle of the rectangle, then wrap the meatloaf around it. You can use the baking paper to help you. After wrapping it, close the ends like a sweet wrapper and tie them with a string.
STEP 5
Bake the lamb meatloaf in the pre-heated oven at 180° for 60 minutes. When ready, let it rest outside the oven for at least 15 minutes before removing the baking paper and slicing it. Enjoy your meal!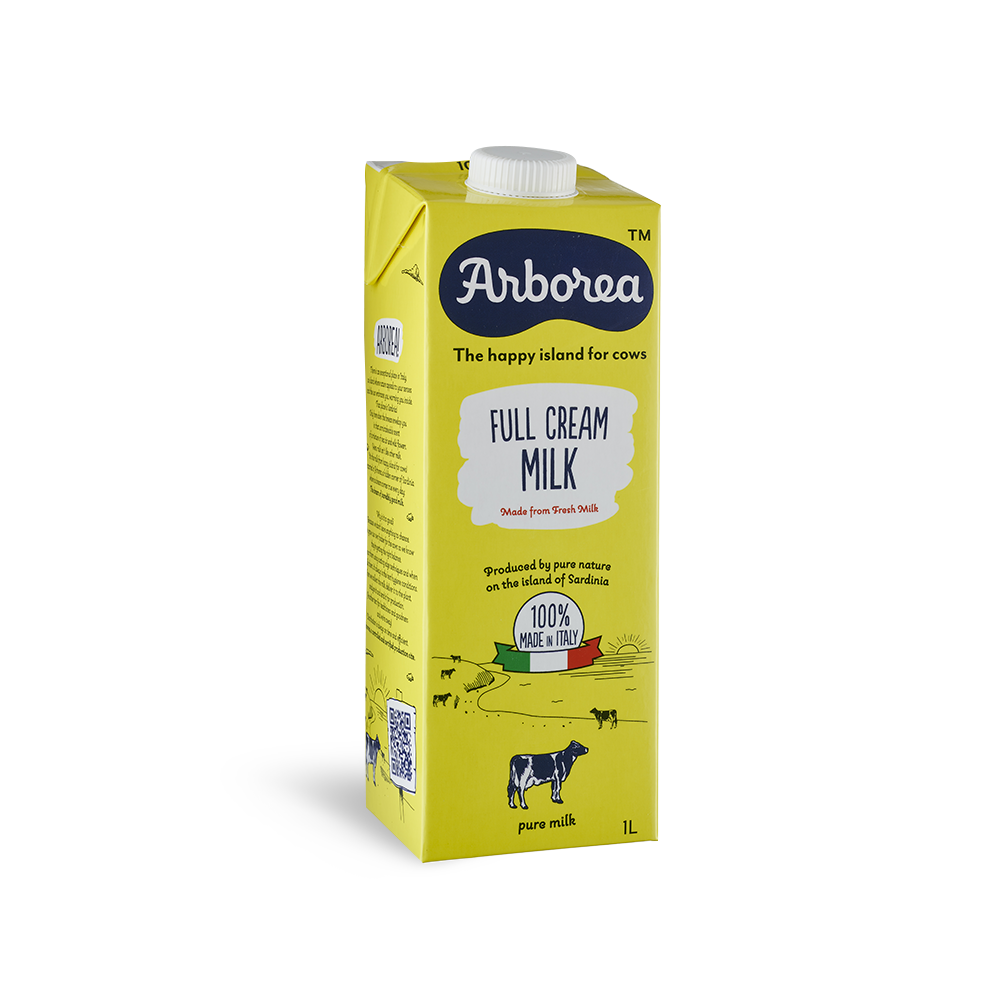 UHT Full cream Milk
Minced lamb meat 

1 kg

Hard-boiled eggs 

5

Eggs 

2

Fattorie Girau mature Sardinian pecorino 

100 g

Ham(one single slice) 

100 g

Walnut kernels 

50 g

UHT full cream milk Arborea

150 ml

Stale bread 

100 g

Green olives 

50 g

Rosemary 

2 sprigs

Parsley 

1 sprig

Thyme 

2 sprigs

Salt

as required

Pepper

as required
OTHER PRODUCTS YOU MIGHT LIKE