INTRODUCTION
Frattau bread is an extremely tasty dish: it's also easy to make, and is a real classic of Sardinian cuisine.
Its main ingredients, carasau bread, eggs and Sardinian pecorino, make it ideal as a main course or starter.
The recipe was originally invented to make use of leftover carasau bread, but it has now become a delicious and tasty dish that's impossible to resist in its own right!
If you can't wait to try it, follow these steps to prepare unbeatable frattau bread.

STEP 1
Making frattau bread is quite simple. Peel the onion, chop it and brown it in a saucepan with some tablespoons of extra virgin olive oil. When the onion is done, add the tomato sauce and salt, and then cook for around 14 minutes over a medium heat. Season with basil leaves.
STEP 2
While the sauce is cooking, prepare the poached eggs. Heat a pot with 2 litres of water and 200ml of vinegar. When the water starts to boil, crack an egg into a bowl and, using a whisk, stir the water quickly to create a whirlpool. Drop the egg into the centre of this, and allow the white to wrap around the yolk. This will take approximately 2 minutes. If the whirlpool slows excessively, stir the water gently with a spoon.
STEP 3
When the egg is ready, drain it with a skimmer and dry it with absorbent paper.
STEP 4
Break the carasau bread sheets into four pieces each. When the tomato sauce is almost ready, pour the stock into a large pot and, when hot, dip the carasau bread sheets in it (making sure not to soak them too much) and place them on 4 plates. Alternate a layer of carasau bread with a layer of tomato sauce and grated pecorino.
STEP 5
Every plate should have two layers, topped with a generous sprinkling of grated pecorino and one poached egg. Serve immediately.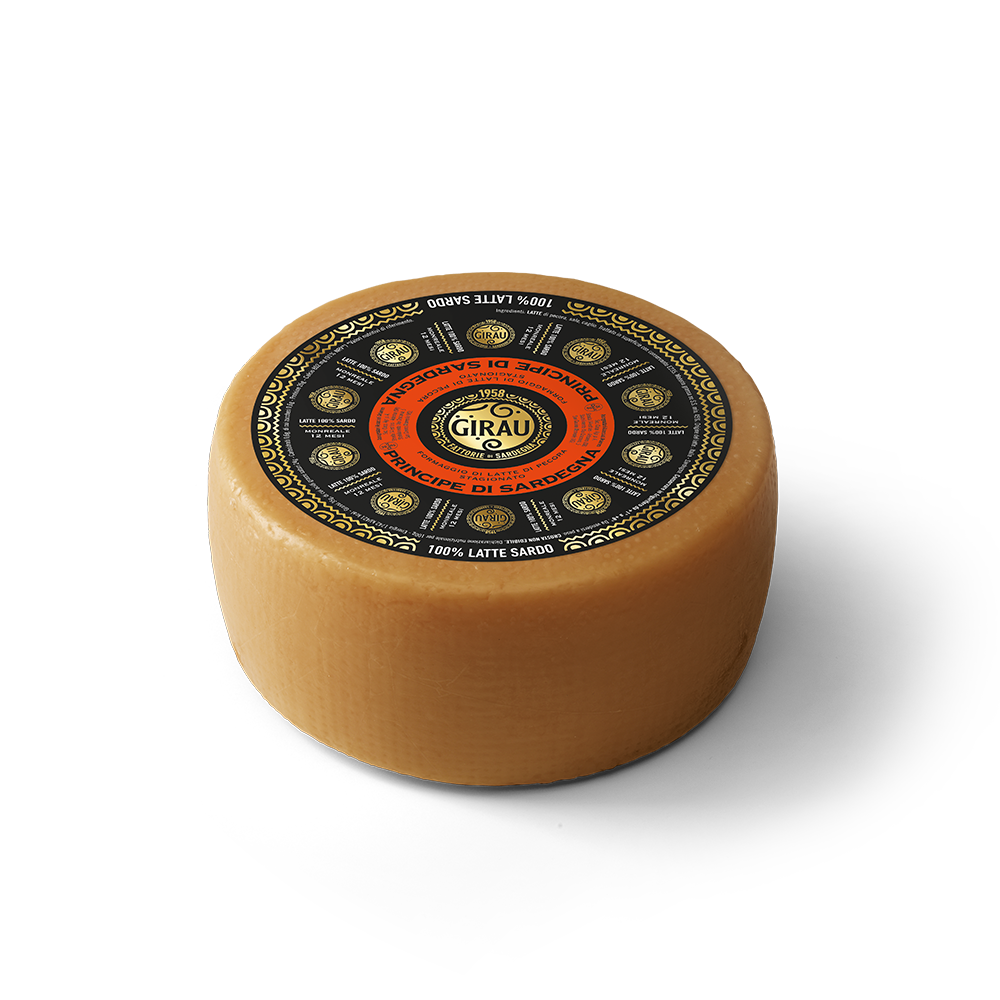 Mature Sardinian Pecorino
ingredients
For the Frattau Bread:
Carasau bread

8 sheets

Tomato sauce

350 ml

Lamb or sheep stock

1,2 l

Onion 

1/2

Fattorie Girau mature Sardinian pecorino

as required

Extra virgin olive oil

as required

Basil leaves

as required

Salt

as required
Eggs

4

Water

2 l

Vinegar

200 ml

Salt

as required
OTHER PRODUCTS YOU MIGHT LIKE